Relax. Let Shore Insulation Help Reduce Your Utility Bills!
50% or more of all homes are under-insulated. The US Dept. of Energy now recommends R-49 or 12-14 inches of traditional fiberglass insulation in the attic. Furthermore, if your home was built more than 20 years ago, it may be that your home has NO insulation in the walls.
Do Different Installation Methods Make a Difference?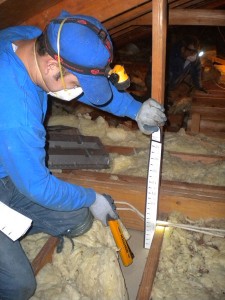 Quite Frankly, Yes. About half of all wall cavities in residential construction are nonstandard in width and height or obstructed with wiring and pipes. Traditional fiberglass batts are cut and then pieced together. This leaves voids, gaps & areas of compression which in turn reduces the R-value of the insulation. Any void, gap or seam in conventional batt insulation can reduce the R-value significantly.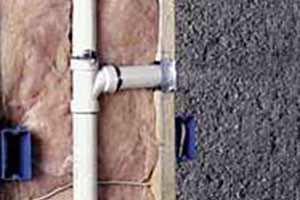 Blown cellulose and spray foam insulations form a seamless insulating blanket and provide outstanding protection from the elements. Best of all, on the hottest and coldest days, (when you need it most) these insulations won't lose R-value like fiberglass. You can SEE the difference in the wall to the right. One cell is installed with fiberglass batts and the other blown cellulose. The rightmost cell is completely sealed without any voids or gaps.
---
Our insulation experts will develop a custom plan for your home.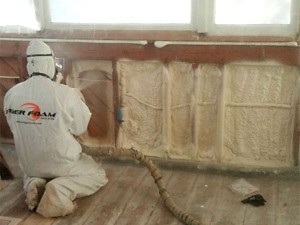 How well insulation performs in your home critically depends on the installation process. Does it fit well in various sized wall cavities and around the many obstacles found in the ceilings and walls of your home?  Cellulose insulation is blown or sprayed into attics and walls, allowing it to conform to your home and surrounding you and your family with a seamless insulation system.
Installing Cellulose insulation in new or existing homes is one of the best decisions you can make. Walls and ceilings are fully and tightly insulated, No more gaps. No more voids. No more drafts. Just years and years of comfort.
Call today to schedule your complimentary home evaluation.


524 Brighton Ave Suite 9
Spring Lake, NJ 07762
 1-877-452-6096
1-732-359-6342
NJ State License #13VH01202100